Google My Business
The power of Google My Business.
As a business owner, you know the importance of online marketing, but are you leveraging the power of Google My Business correctly? In the past, consumers used phone books to find the addresses and phone numbers of nearby businesses. Know anyone that still looks in the phone book before they make a purchase? Google My Business can be your most valuable marketing asset if done correctly it will boost local SEO and your Google Reviews.
Digital marketing channels, specifically Google My Business (GMB), are a key to any company's organic Local SEO. Google My Business listings will also connect your business with potential customers and provide information that could influence a purchase decision.
Getting your business into
the box seats.
Our team can help you improve your Google My Business results with a free audit that will help you stay on top of the competition.
Google My Business, What is it exactly?
Google My Business (GMB) is a web-based directory consisting of local business and organization listings. Typical listings contain information pertaining to a business, including its name, address, phone number, hours of operation, popular times, average time customers spend at the business, website address, customer ratings, reviews and more.
Google My Business listings can appear in multiple places, including Google Search and Google Maps. Relevant local searches return a few GMB listings – also known as the local pack — at the top of the organic results along with a link to see additional results.
Getting visibility on Google as a local business is extremely important for sustained growth and success. It has been shown that roughly 46% of all Google searches are seeking local information and that 4 in 5 online consumers are using search engines to find local information, this translates to if it's not your business that is showing in the results, it is one of your competitors. And for this reason, it is absolutely critical that you leverage Google My Business if you are not already doing so.
Local business, why GMB matters
Why does Google My Business matter to a local business? That question is best answered with what you'll get from GMB. Here are just a few of the most relevant features:
Insights
After you're verified and setup, you have access to data that provides an invaluable view into customer activity. How is your business being found? Where are your customers coming from? How many times have your photos and posts been viewed? GMB answers those questions and more.
Booking
GMB lets customers book your services or make appointments without leaving your listing. GMB has a built-in scheduling tool for organizing, tracking and managing your bookings in one place.
Reviews
GMB gives customers the ability to leave online reviews for your business, and give you the ability to respond to them. Be sure to respond to as many reviews as you can. Customers tend to prefer local businesses that engage with them.
Posts
Posts are an easy way to keep customers updated on regarding your business. Perfect for announcing a new product, available offers, promotions etc. When posts are written correctly, they can increase engagement and bring in new customers.
Photos & Videos
Strong visuals will create a good first impression. With GMB you can leverage both photos and videos, remember you want to entice customers. Consistent posting on a weekly basis will ensure that your business stays relevant.
Questions & Answers
Q&A is another great way of attracting consumer interest. Respond to questions so that consumers can know more about your business, it's products and services. One of the best things about Google My Business Q&A is that it allows you to pin frequently asked questions.
Benefits of Google My Business
#1: Show up in Google Maps search results
Next to getting online reviews, the next most important factor that consumers take into consideration when searching for a local business is proximity to their location. While a quick Google search is certainly effective for narrowing the down the options—especially those on a smartphone—most consumers use Google Maps to locate businesses nearby.
Whether searching for local mechanics or a popular spot to get some ramen noodles, Google Maps will quickly populate with dozens of red markers, each indicating a local business that meets your search criteria. By simply creating a Google My Business listing and completing the verification steps, your store location will start to pop up for local searches as well. This is a great benefit that allows users to instantly see how close you are to their location, increasing the likelihood that they'll pay you a visit.
Take for example, you're a pest control business, having a Google My Business will allow your business to show up for searches like the one below:
#2: Show up in Google's Local 3 Pack
If you've been following Google's local search results for the past few years, you've probably noticed that the once inclusive 7-pack has now become the limited 3-pack. In order to get into this special club, businesses around the world have been trying a number of different SEO tricks to boost their local rankings and odds of being included in Google's local 3-pack.
What most brands don't know is, by simply creating a free Google My Business listing, you can greatly increase your odds of making it onto this highly sought after list. The best part about being in the local 3-pack, you ask? Not only do these listings show users where your business is located on Google Maps, but they also show up BEFORE organic results—offering a major benefit to your visibility. To better demonstrate just how important this is from a business perspective, brands that show up on Google's local 3-pack get a whopping 700% boost in clicks over brands that don't.
3Pack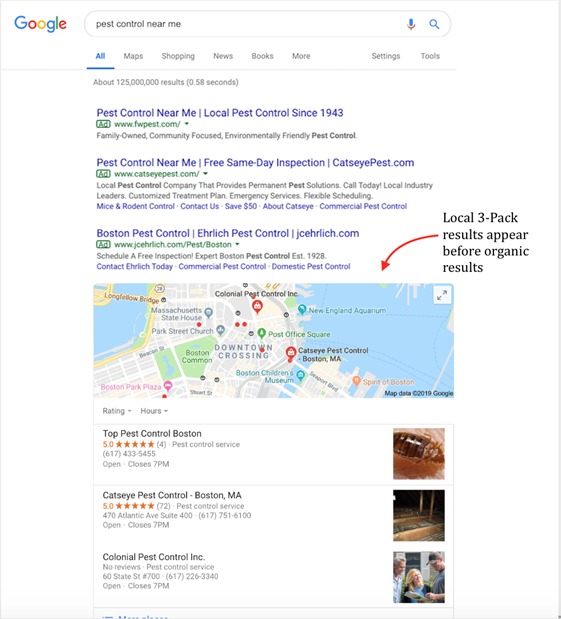 #3: Build Trust With Customers
For modern customers, one of the biggest hurdles they have to face is that of building enough trust to confidently make a purchase. As a business owner, your job is to help them make that jump as easily as possible. To do this, one of the simplest steps you can take is that of helping potential customers see that your business has an actual location.
Due to the inherent trust and confidence most users place in Google, your business benefits whenever it pops up in a local search, as prospects will automatically be more likely to trust your brand. In fact, brands that show up on Google are 2.7 times more likely to be considered reputable by consumers.
This is due largely in part to the thorough process businesses must go through before being listed on Google My Business. Thanks to the multiple verification steps every brand must complete before appearing in local searches, Google creates a trustworthy environment that users can rely on.
#4: Great Reviews Increase Your Appeal
Few factors can influence a potential customer's purchase decision as much as online reviews. As a consumer, think about the last time you were buying something online. Did you go with the product that had the highest reviews, or the lowest?
With a Google My Business listing, customers will be able to review your business and leave feedback for others to see. In doing this, not only will you get honest evaluations about what you're doing right and what you could be doing better, but you'll also get that nifty star rating system next to your business on Google. As long as you're delivering quality products and a quality experience, over time, you'll start to collect more reviews and a higher overall rating (responding to reviews helps with this as well). This is especially helpful when there are competing businesses nearby and you need to gain a competitive edge.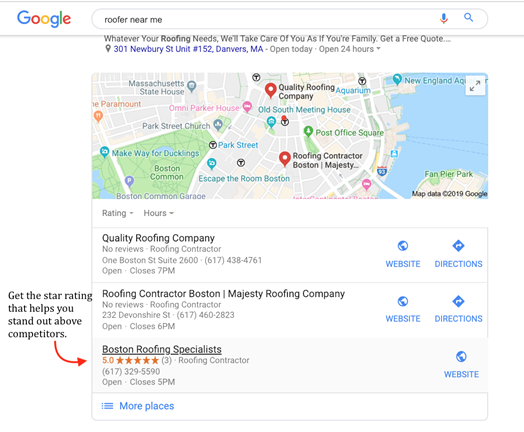 #5: Increased Traffic & Sales
Another challenge local businesses face is that of maintaining an increase in quality website traffic and keeping a steady supply of foot traffic filtering through their doors. While there's no way to completely avoid the ups and downs throughout the year, having a Google My Business listing can greatly help boost your numbers across the board.
Just by having a listing and showing up in local searches, Google has found that businesses are as much as 70% more likely to attract location visits from browsing potentials. An even more impressive figure revealed that customers who find a brand through their Google My Business listing are up to 50% more likely to make a purchase.
#6: Know More About Your Business
No matter what kind of product or service you sell, the more you know about your customers, the better you'll be able to appeal to them. From your Google My Business page, navigating to the "Insights" section will give you a wealth of valuable analytics that breaks down how visible your brand is, who your target customers are, and how they're engaging with your business.
This is a powerful way to gauge how your business is performing throughout the year so you can better zero in on what's working and what's not. By learning more about the kinds of customers your business is attracting, you'll also be able to modify and improve marketing strategy performance.
#7: Higher Ranking in Results
The more Google likes your business, the higher it will rank you in its Search and Maps results. How do you get Google to like your business more? By supplying quality, consistent, and accurate information. The more Google can tell consumers about your business, the more it will like you. Your Google My Business profile is the best way to feed Google this information.
#8: Increased Customer Engagement
Google My Business profiles provide ample opportunities for engagement. Potential customers can access your website or call you in one tap or click. Even more beneficial is the ability to reserve a table or book an appointment directly through your listing.
#9: Advertising on Google For Free
Running a Google Ads campaign is a great way to get to the top of Google, but you do need to know what you're doing so you can maximize your budget. You also need to have a budget for running ads in the first place. The other way to get to the first page of Google is by improving your SEO, which is primarily content-driven. This method is more sustainable but it does take time to build up your authority and ranking.
A Google My Business listing, on the other hand, offers a form of fast and free advertising on Google. With it you get targeted exposure on the world's most trusted search engine, It costs nothing to create, claim, and verify your listing. It takes less time to optimize your profile than to get a solid paid search campaign up and running. You will also see results more quickly than with building up your organic search results through website pages over time.
This is not to say that you should not run Google ads or build your SEO through your website—these are marketing strategies that are well worth your time and money. The point is that Google My Business is an additional marketing strategy that is cheaper than paid search advertising and faster than SEO—not to mention simpler than both.
#10: Stand Above the Competition
Your Google My Business profile displays the essential information potential customers need in order to engage with your business. In addition, it also displays a brief description to help users quickly identify if your business is what they're looking for. An effective Google My Business description offers a snapshot of your business, includes relevant keywords, and depicts something unique or authentic to help you show your value. Through a small snippet of content, your Google business description gives you an opportunity to stand out from your competitors in a consumer's initial scan through search results—don't pass up this benefit!
Google's search results are becoming more and more robust, with answer boxes, related questions, and even results appearing in the search suggest drop down menu. The benefits Google My Business affords local businesses are only growing. Get your free profile set up today to start ranking higher!